We are dedicated to individualized, relevant instruction in a safe learning environment. Our team establishes effective learning relationships with students and meaningful communication with students, parents, teachers, and counselors.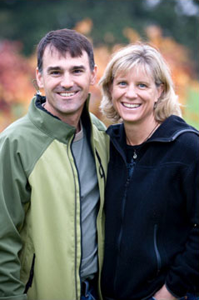 DJ Glusker & Julie Glusker
Julie Glusker, M.A. – Owner/Educator
Julie is an accomplished, passionate, and caring educator, advisor and coach with 30 years of experience across academics, athletics and client service. Julie specializes in whole student and whole athlete development, college counseling, and essay advising. She earned her B.A. in English from Dartmouth College and M.A. in English from Middlebury College's Bread Loaf School of English.
Julie is the Director of College Counseling for US Performance Academy, the VP of Client Service for Clear2.co and serves as an advisor to Live Like Sam and Community Sport Coalition. Julie is a member of the Professional Association of Athlete Development Specialists, was a member of the Park City Education Foundation board, co-founded Park Record Spelling Bee and coached for PC Lacrosse Organization and Utah Mamaci.
DJ Glusker, M.B.A. – Owner/Educator
DJ leads Aptitude's curricula, programming, advising and scheduling. He specializes in teaching math, biology, chemistry, physics, and test preparation.
DJ taught in secondary schools, led academic advisories and community service, and coached soccer, lacrosse, wrestling, and golf. He is certified as a level 3 soccer, level 4 hockey, and level 2 ski coach, having coached youth sports since 1989.
DJ also directed Harvard Education designed Sports PLUS Camp, a program designed to enhance cognitive, strategic, athletic and academic skills . He worked on Harvard Ed project A.P.P.L.E., with education leaders Dr. Jeff Beedy, Dr. Thomas Lickona and Dr. Robert Coles in Applied Programs, Paradigms, and Learning Experiences, addressing moral and character development in education.
DJ studied pre-med, earned a B.S. in Biology from University of Southern Maine, and completed an M.B.A. from Westminster College's Gore School of Business. In addition, DJ has learned along the way from the many lessons in classroom and life.